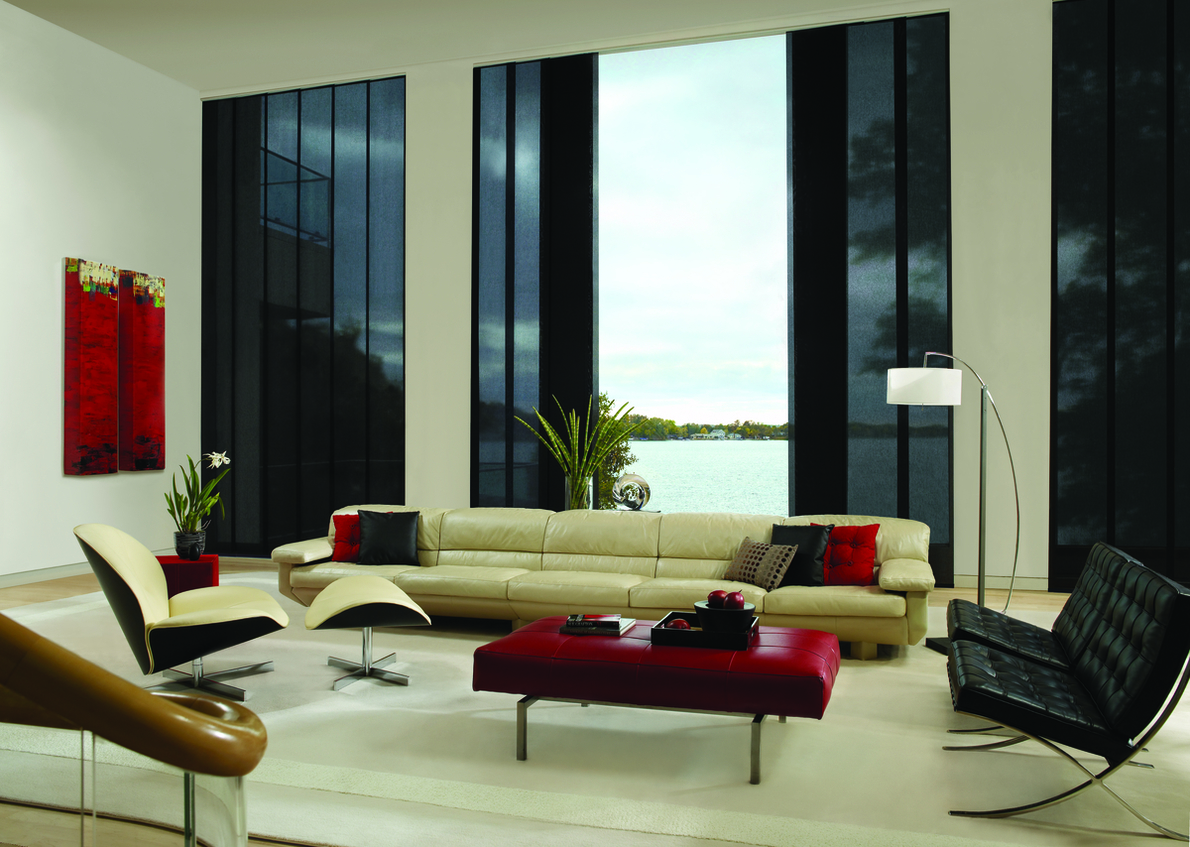 Vertical blinds are perfect for outfitting wide window expanses and sliding glass doors. With numerous materials available including fabric, vinyl, and aluminum, it's easy to find something that will look amazing in your home. The friendly professionals at Rockland Window Covering can help you design vertical blinds that will perfectly complement your existing decor.
A Modern Take on Vertical Blinds
Skyline® Gliding Window Panels offer a modern, dramatic option for vertical blinds. Their wide fabric panels provide superior light control, and they stack together tightly when closed to avoid obstructing your view. With over 600 fabric choices available, you'll find it easy to discover something that suits your style. You can customize the size of your panels to be up to 17 inches wide, and they pair easily with other window treatments.
Combining Elegance with Function
Cadence® Soft Vertical Blinds imitate the softness of drapery, so you can have an elegant window treatment that not only looks great, but is functional, too. Cadence® blinds are great for absorbing sound and providing light control to give your home a more inviting atmosphere. Choose a sheer fabric to diffuse the light and provide better illumination, or select an opaque fabric to darken the room.
A Highly Customizable Vertical Blind
Somner® Custom Vertical Blinds feature the widest range of materials and finishes, so there is something for everyone. These custom blinds are available in fabric, aluminum, and vinyl, and offer a wide array of colors to choose from. Somner® blinds are easy to operate and provide the perfect amount of light control for your home.
A More Economical Solution
Vertical Solutions® Vertical Blinds provide an economical choice for more budget-conscious customers. They are offered in both fabric and vinyl, and they feature an assortment of styles to fit any decor theme. There is even an option for a motorized operating system to make them easier to use.
To check out the simplicity and customizable nature of our Hunter Douglas blinds, as well as our wide selection of other window treatments or for any other interior design questions you may have, stop by our showroom located in Spring Valley, NY. We proudly serve the surrounding area, including Pomona, NY and Saddle River, NJ.