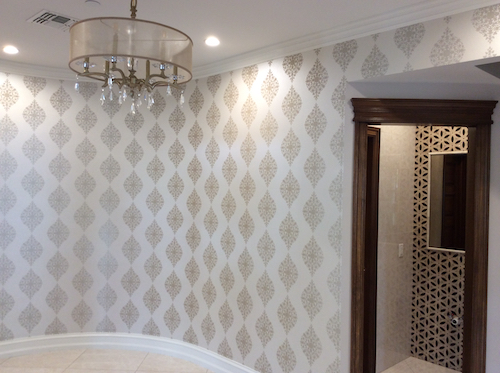 Are you shopping for home wallpaper or commercial wallpaper? Rockland Window Covering provides full-service wallpaper store services for homeowners and commercial establishments like hotels, buildings, lobbies, restaurants and offices.
Nursing homes and assisted living facilities get a warm and cozy feel by adding an element often found in residential homes. Rockland Window Covering has assisted many local homeowners and businesses in Rockland, Orange and Bergen counties. Contact us for your next residential wallpaper or commercial wallpaper project.
Rockland Window Covering works with you directly or partners with your interior designer to help make your wallpaper design dreams come true. Rockland Window Covering provides full-service design and wallpaper selection assistance at our newly renovated showroom in Spring Valley, New York.
Make the most of your time by shopping with a wallpaper store in business for 30 years. Rockland has completed all types of wallpaper projects with a variety of wallpaper fabrics, patterns and colors. Rockland Window Covering carries an extensive line of designer wallpaper with updated and on trend designs for any type of residential or commercial project.
Please call us today at 1-888-356-5181 for an appointment!
Rockland Window Covering features a luxurious collection of home wallpaper and commercial wallpaper samples and swatches for your next design project. Whether you are wallpapering a small space, accent wall or entire rooms or commercial buildings, no job is too big or too small for Rockland Window Covering. Rockland covers windows and walls beautifully to match your home decor.
Whether you are wallpapering a small space, an accent wall or an entire room please allow us to assist you in finding the best wallpaper selection to coordinate with your decor. With thousands of wallpaper fabric options available, Rockland can cover your walls to suite your personal style whether it's modern, traditional or somewhere in between. Wallpaper is the best way to add drama and impact in any space. Create a unique touch or make a design statement with wallpaper designs in any environment. Take a step out of your comfort zone and bring your decor to the next level by calling Rockland Window Covering for an appointment today.
Choose from home wallpaper fabrics with stunning design patterns, gorgeous colors and textures to enliven any wall or space. Home wallpaper techniques date back to the 1700's. Renaissance Europe graced the walls of many buildings and extravagant homes with tapestries appealing to the eye. Wallpaper designs and printing has evolved so much into the 21st Century. Homeowners continue to wallpaper walls with natural grasses, bamboo, and other modern-day materials. Digital printing allows for easier application of floral designs, stripes, and creative prints that can add a wow factor in your space.
Wallpaper fabrics can be modern or traditional whether you are covering walls in your home or business. The Rockland Window Covering showroom features an extensive collection of designer wallpaper swatches for any type of residential or commercial design project. Cover one large accent wall or a half wall with a unique wallpaper design. Wallpaper installations can be done in multiple rooms or apartment buildings to create an individualized design statement in each room. Today's wallpaper prints are used to highlight the decor a room. Vinyl wallpaper can be durable and easy to clean with a specific coating applied. This can be a great options for using wallpaper in high humidity areas like bathroom and basements.
Rockland Window Covering meets with you one-on-one in the showroom to select the best wallpaper for your home or commercial establishment. A staff member will help you choose wallpaper textures, prints, colors and designs. The Rockland showroom house features wallpaper sample books with large size swatches so you can easily envision it in your room. Vintage wallpaper, traditional wallpaper and modern wallpaper styles are available based on your interior design style.
Some advantages of working with Rockland Window Covering versus an online wallpaper samples website is that you:
• Receive personalized attention, guidance and assistance with your design project
• Collaborate with design staff and receive unique wallpaper fabric and swatch recommendations
• Get to see, touch and feel the wallpaper books and samples in person
• Seeing in person and believing is best when it comes to wallpaper fabric textures and colors
• You support a local design business who is dedicated to their customers
• Receive personalized wallpaper services and support with a company 30 years in business